Permaroof is made from pre-coated steel and is available in a wide choice of colours, thicknesses and finishes including 0.5 Polyester (painted finish), 0.5 Nova (painted finish – 20 year guarantee) and 0.7 Plastisol (plastic coated outer finish).
Each order is manufactured in the Planwell factory to suit your individual requirements.
Permaroof is available in long sheet lengths and the 30mm high roofing panels provide a 1 metre cover width roofing sheet (this includes the side overlap).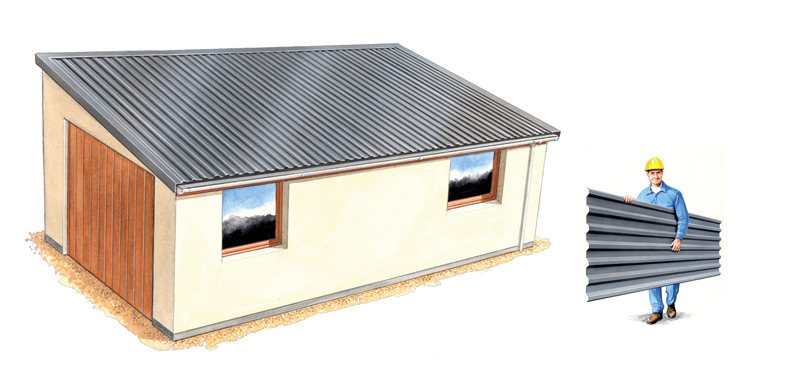 The main advantages of Permaroof are …
*           Low Cost – save £££'s on roofing costs – Buy direct from the manufacturer
*           Quick & simple to fit (ideal for DIY) (Free fitting instructions provided along with each order)
*           Maintenance free
*           No more roofing costs
*           Lasts a lifetime – 40 year (plus) life expectancy
*           Strong enough to walk on
*           Top quality roofing products
*           Attractive in appearance
*           Available in a wide choice of colours and finishes
*           Long sheet lengths available (manufactured to your individual requirements)
*           Guarantee for either 10 or 20 years available
*           A complete roofing system which comes with all flashings, fillers, fixings & accessories
*           Delivered throughout Scotland
Permaroof is designed for …
*           Houses
*           Garages & Sheds
*           Flat Roofs
*           D.I.Y
*           Industrial Buildings
*           Sports Stadiums
*           Wall Cladding
To order it's as easy as 1,2,3
Step 1:            either email or Freephone us for a FREE Quotation
Step 2:            Choose from our array of colours, styles & finishes
Step 3:            Your order is processed and delivered complete with flashings, fixings and accessories –
Simple to fit – Ideal for DIY